Transitions® VII SignatureTM Lenses
Transitions® VII Signature™ Lenses are the newest addition and the next generation of Transitions lenses. Fully clear indoors – but outside, they're more responsive than ever thanks to their Chromea7™ technology. They are more reactive to UV light so they get darker in more conditions, including bright sun, partially sunny, cloudy, and everything in between. They also adapt to indirect light – such as light reflected from building, cars, and many other surfaces.
Transitions® XTRActiveTM Lenses
If you spend more of your day outdoors than indoors or enjoy a lens with a slight tint indoors, then Transitions® XTRActive™ lenses may be right for you. Transitions XTRActive lenses are the darkest everyday photochromic lens– even in warm weather—and have a moderate tint behind the windshield.
Lenses change from light tint indoors to very dark outdoors
Designed for those who spend most of their day outdoors
The darkest everyday Transitions lens available – even in warm weather
Moderate tint behind the windshield
Blocks 100% of the sun's harmful UVA & UVB rays
Available for most frames and with non-glare treatments
Transitions® VantageTM Lenses
There are clear lenses that can darken. There are sunglasses that are polarized. But never before have everyday eyeglass lenses been able to both darken and polarize in bright, outdoor light. Until now.
We took the traditional Transitions lenses you know and love and added variable polarization – polarization that increases as the lenses get darker. And that means your vision gets crisper and sharper. Color contrast and perception becomes richer, vibrant and more vivid. All this, even in the brightest outdoor glare.
The world's first and only everyday lenses that are virtually clear indoors and darken and polarize outdoors
Noticeably crisper, sharper vision
Richer, vibrant and more vivid colors
Glass and water look more transparent outdoors
Glare is reduced to provide more comfort, even in the brightest sunlight
Blocks 100% of the sun's harmful UVA & UVB rays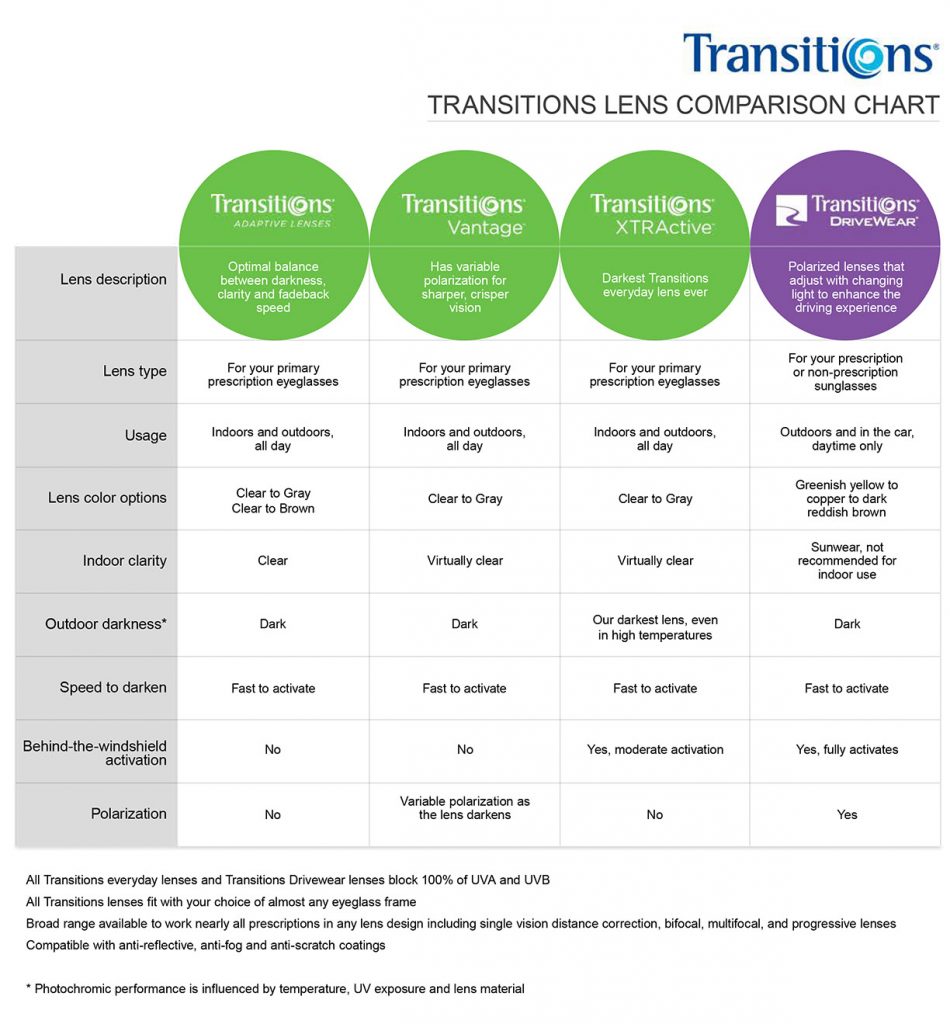 Have questions? Contact our support for help.